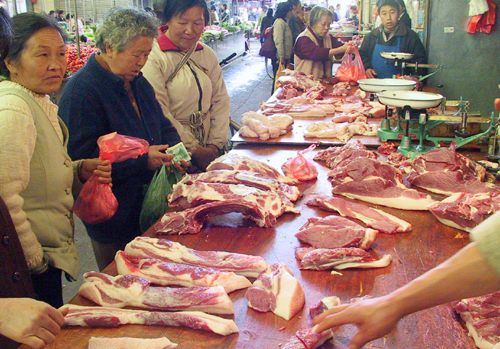 According to the market monitoring statistics of the Hangzhou Municipal Bureau of Trade (the Municipal Grain Bureau), this week's Hangzhou Necessities market has ample supply and the price is basically stable.
This week, the Jiangsu rice is 4.15 yuan/kg, the Anhui rice is 3.99 yuan/kg, the special flour is 3.11 yuan/kg, the special two flour is 2.83 yuan/kg, the salad oil is 9.66 yuan/kg, the vegetable oil is 10.97 yuan/kg; the northeast rice price is equal to the previous period Flat. It is expected that the food trade volume will remain stable next week, and edible oil will be subject to slight fluctuations due to futures prices.
The average daily supply of pork in the urban area this week is about 5742, and the average daily wholesale price of white meat is 18.89 yuan/kg. According to statistics, the meat is 27 yuan/kg, the sandwich meat is 25.58 yuan/kg, the leg meat is 25.94 yuan/kg, and the whole meat is 31 yuan/kg. It is expected that the pork market supply will be stable next week. As the weather turns cold, the public's demand for meat will increase and there will be room for further increase in pork prices.
The average daily volume of vegetables this week was 3,136 tons, an increase of 1.21% compared with the previous period. Among them, the number of guest dishes decreased by 3.01%, and local dishes increased by 4.52%. Wholesale prices: 1.32 yuan/kg for green vegetables, 0.56 yuan/kg for Chinese cabbage, and 1.02 yuan/kg for cabbage. It is expected that the trading volume of vegetables will be relatively stable next week and retail prices will rebound.
According to statistics, there is sufficient supply in the poultry market. The average daily turnover of poultry was 128,000 feathers, a decrease of 1.24% compared with the previous period. The average daily wholesale prices of three yellow chickens and ducks were 12 yuan/kg and 18 yuan/kg respectively. The average daily retail price of eggs and duck eggs was 10.85 yuan/kg and 14.09 yuan/kg respectively.
Robot Calibration Solution
Robot Calibration
Automated Precision Inc. , https://www.apiasean.com